Super Ref James Clarke joins the RFU Panel!
Big congratulations to Super Ref James Clarke who joins the RFU Panel of Referees, from the whole Rugby4Heroes festival team.
James Clarke is our long serving and super dedicated Festival Referee coordinator.
James, an experienced and well qualified senior rugby referee, has recently been elected to the RFU's National Panel of  Referees. Whilst we don't know what this involves in detail (apart from drinking tea and eating prawn sandwiches), we do know this is a prestigious appointment for a young and talented referee. We confidently predict that at this rate of progression, he will be refereeing the World Cup Final in 2019!
James has worked very hard over the least few years to recruit, organise and coordinate the Rugby4Heroes Festival referee team and structure the fixtures. The result of this hard work is a great standard of rugby, the tournament finishing on time, and lots of satisfied players and spectators. We are delighted he has received this recognition – couldn't have happened to a nicer bloke!
The image above shows yellow shirted James in action at a Help for Heroes challenge match.
Well done James!
2014 OLRFC Rugby4Heroes Festival – Team Registration now open!
We are now accepting team entry registrations for the 2014 OLRFC Rugby4Heroes Festival!
Mens, Ladies and Veterans Rugby Tens teams may enter via emailing Festival organisers Mike Vallance at trekmonkey46@aol.com or Gaz Nash at gaz@liquidblu.co.uk 
The Senior rugby will be played on Saturday 17th May 2014 in the well established Tens rugby format of past years. If there is sufficient demand for the U35 Senior Mens Rugby and Ladies Rugby tournaments, we may stagger the pool stages to take place on Saturday 17th May, with knock out and competition finals taking place on Sunday 18th May. Veterans rugby will be played on Saturday only. Watch this space for more details on the scheduling of the tournament and to download a registration pack.
Take advantage of our early bird entry offer – £100 per team!

If you register your team and pay before February 15th 2014, you will qualify for the 'early bird' tournament entry fee of £100  for a squad of up to 20 players. Entries received and paid for after 15th February 2014 will attract a tournament fee of £150.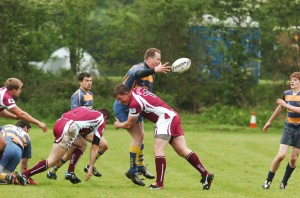 A Girls U18 Tag rugby tournament will also be played on Sunday 18th February 2014 – girls' teams can register for an early bird fee of £20 per team by 15th February, after which it will increase to £30 per team. Again this will follow the successful Sevens format of previous years.