Rugby4Heroes Welcomes Patron – Monty Halls
Old Leamingtonians RFC will host the 'Rugby for Heroes' Festival for the fifth year running on 10th-12th May 2013 and are aiming to put on their best ever Festival of sport, music and fun for all the family.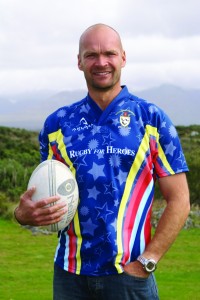 This year we are again proud to welcome back as our newly appointed Official Festival Patron and rugby playing guest, television presenter Monty Halls! Monty is a former Royal Marines officer and since leaving the services in 1996 he has worked in some of the most demanding environments on earth, won Channel Four's 'Superhuman', and presented series and documentaries for the Discovery Channel, The National Geographic Channel, BBC1 and BBC2, Channel 4, and the History Channel. Famous for his adventures with his dog Reuben in the Great Escape series, he most recently presented a three-part documentary on the Great Barrier Reef and a BBC series entitled 'The Fisherman's Apprentice'. Monty will attend this year on a break from filming a new dive expedition series for broadcast later this year
Monty said "the OLRFC Rugby for Heroes weekend is a fantastic event raising money for some very important causes, through the medium of an excellent festival of rugby and music. I am honoured to have the role of Official Festival Patron bestowed on me on the Fifth Anniversary and look forward to donning my rugby boots again!"
"In a busy modern world, there are very few days in the calendar that are set in stone, that are non-negotiable, but Rugby For Heroes is one of them. It's a gathering of the rugby family to commemorate and celebrate those we have lost, and is quite simply an un-missable event. The achievement in putting together such a day is not to be underestimated, requiring a huge amount of effort by a large number of people, but the end result invariably lives long in the memory. First there is the setting – Old Leamingtonians RFC – the epitome of a friendly, vibrant local rugby club. There is the rugby itself – this might be the ultimate good natured gathering, but once the whitewash is crossed, everyone means business and no quarter is asked or given.
And looming large over everything is the spirit of the event itself, which runs clearly through every pass given, every tackle made, and every pint sunk. The event raises money for those we have lost, to help those they have left behind, and to honour their memory. Such is the spirit of the weekend, that nearly twenty thousand pounds has been raised by the previous Rugby 4 Heroes events, a monumental achievement by all concerned.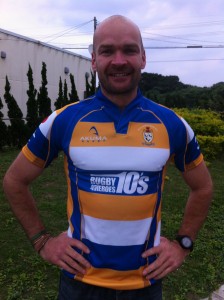 I am extremely honoured to have been asked to be Patron of the event. As an ex-Royal Marines Officer and sometime tv presenter, I am assuming that my media profile and Services background has very little to do with this. As with all rugby players of a certain age, who sneakily think they've still "got it", I can only assume that such an honour is due to my coruscating pace, bewitching side step, and pile driving hand off.
It is very difficult indeed to epitomise the spirit of the great game we play. But for one weekend a year, at Old Leamingtonians RFC, as the rugby family gathers to commemorates those who have fallen in battle, we come fairly close. A great event, a great club, and the most worthy of causes. My warmest congratulations to all of those concerned, you do yourselves proud.
Now, fill your glasses, raise a toast to absent friends, and bring on the rugby!"
All the best,
Monty Monty Halls, The Great Escapes Team