ABF The Soldiers' Charity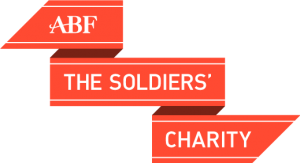 Our Appeals 
What is ABF The Soldiers' Charity?
ABF The Soldiers' Charity is the national charity of the British Army. Existing since 1944, it provides vital support for soldiers, former soldiers and their families in times of need. The cost and complexity of each case is increasing – last year The Soldiers' Charity helped more than 6,000 individuals and touched the lives of more than 77,000 people, through grants to specialist charities which help the wider Army family.
Most soldiers leave the Army with good transferrable skills and a bright future. But for those dealing with injury, mental health problems or lack of work experience, the Charity provides financial support, often within 48 hours of a case coming in.
Why Choose The Soldiers' Charity
In this WWI centenary year, the country will be solemnly marking our Armed Forces' sacrifices and courage
The complexity and cost of each case is rising
No soldier or their family should suffer disadvantage as a result of their service.
We are the backbone of Army family support
We receive no Government funding
Without us, an elderly veteran would have to choose between heating and eating
Without us, a Victoria Cross recipient would not have independence provided by a mobility scooter
With us, hundreds of serving soldiers are given support and training to help them when they leave the Army
With us, donations are carefully stewarded to ensure the money goes to those in real need.
Our Vision
That all serving soldiers, former soldiers and dependants should have the opportunity to avoid hardship and enjoy independence and dignity.
How we make a difference
We provide assistance to elderly veterans, trying to get by on limited pensions; soldiers, former soldiers and families facing hardship or sudden crisis; or training for a wounded soldier who needs support to find a new career.
Helping Individuals
We helped more than 6,000 individuals last year. Including specialist mobility equipment for injured young soldiers, helping wounded soldiers return to civilian life with courses and careers help, assisting with care home fees so elderly pensioners can live dignified lives, or providing travel help so that a serving soldier and his wife could take their deaf child to specialist appointments.
Project – Storybook Soldiers
Our work includes funding specialist projects for Army families, such as StoryBook Soldiers. Soldiers who are about to deploy for long periods on operations record a bedtime story for their children, which is then edited by a team of volunteers before being made into a CD for the family left behind at home.
WWI centenary
No Man's Land was a terrifying place for soldiers to find themselves in, in 1914.
Any soldier, veteran or their family can find themselves in a kind of No Man's Land today – feeling that they don't have the support they need, or a plan for the future, especially in 2014; facing redundancy or recovery from injury, and a return to civilian life.
ABF The Soldiers' Charity was founded in 1944 to ensure that what happened in 1918 – inadequate resources do deal with soldiers and veterans – never happened again.
Data
Last year, we helped people from the age of five months to 107 years
One third of our grants to individuals go to serving soldiers
We release funds within 48 hours
We provide grants to more than 80 specialist delivery charities each year
We work in partnerships with other charities across the globe
Since 2006, we have doubled the amount we have spent on individual charities
For more information www.soldierscharity.org
Tweet @soldierscharity
Like us on Facebook