Karl Hinett – Rugby4Heroes Patron
We are delighted to announce that former soldier, ultra marathon runner and mountaineer Karl Hinett  https://twitter.com/Karl7807  has accepted our invitation to be our third OLRFC Rugby4Heroes Festival Patron!! Karl hails from the West Midlands where he lives with his partner Beth and pedigree Malamute dog, Hank!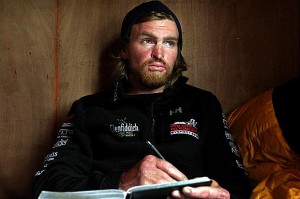 Karl was serving with the Staffordshire Regiment  in Iraq in 2005 when he and his comrades were caught in a terrible situation whilst supporting a rescue mission for two captured British servicemen. Karl's armoured Warrior vehicle was caught in a riot situation and petrol bombed, resulting in Karl incurring substantial burn injuries.
He made a remarkable recovery after 3 years of intensive medical care and you can watch, learn and share more about him on his latest YouTube link https://www.youtube.com/watch?v=KC-kC0xl72Q He has run over 120 marathons and attempted ascents of Everest and other mountains as part of the Walking with the Wounded charity and other teams http://walkingwiththewounded.org.uk
He has also raised a staggering £30,000 in aid of Queen Elizabeth's Hospital Birmingham http://www.nhs.uk/Livewell/Militarymedicine/Pages/Newhospital.aspx  in tribute to the staff there and his outstanding medical care. Not content with that achievement, Karl is currently qualifying for a private pilot licence courtesy of the Aerobility Scheme   http://www.aerobility.com sponsored by Boeing, and is planning a new ultra marathon, entitled 'Back to Iraq! watch this space!
Writing an introduction to this year's Festival Programme, Karl said;
" My name is Karl Hinett, and I'm honoured to write the introduction for this year's 6th annual OLRFC Rugby4Heroes festival programme, as your latest Festival patron.
I'm very pleased to do this alongside your other patrons Monty Halls www.montyhalls.com  https://twitter.com/MontyHalls and Mandip Sehmi https://twitter.com/MandipSehmi
The UK military played a prominent role in my life from a very early age. I joined, trained and deployed in Iraq all while I was still 18 years old, and due to an unfortunate series of events, was severely injured at the end of my first tour of duty.
I received 37% third degree burns and a medical discharge from my chosen and much enjoyed career. It was only through the support of my family and military charities, which helped me rediscover my drive and motivation. I channeled this energy into sports and physical activities which has led me into a very fulfilling life.
Upon completion of my recovery, I set myself the target of running 100 official marathons during the years 2011-2012, while at the same time being very fortunate to have been able to join other wounded servicemen, in attempts to climb some of the worlds highest mountains, including Manalsu and Everest. This was all in aid of military charities and the Queen Elizabeth Hospital in Birmingham, which treats all returning injured service personnel.
After getting to know OLRFC Rugby 4 Heroes, with the work they do and the people behind the scenes, I could see that here was an organisation who wanted to bring communities together through the power of sport, and raise money for military charities. I could relate so much with them to my own journey, that instantly I knew Rugby 4 Heroes deserves the support of all! When I was asked to be a Patron, to be able to champion a cause that has helped so many, I was truly honoured.
I would like to wish everyone a great weekend's rugby, food and music – train hard, play harder and drink hardest!"
Welcome on board Karl, and bring your drinking and partying boots (plus a waterproof tent!) on 16th May ! Thanks to you and Beth for all your support!
(footage courtesy of BFBS http://www.bfbs.com/tv/)